Boom Blox: Pateisinti nepateisinti lūkesčiai
Labai laukiau šio projekto. Iš esmės pats suvokdamas, kad esu reklamos auka. Antra vertus numaniau, kad užrašas "S.Spielbergs" tam tikra prasme tarnauja ir kaip kokybės garantas. Kategoriškai atsisakau tikėti, kad Spilbergas leistų imti ir klijuoti savo pavardę ant bet ko. Vis dėl to… Po pirmų kelių valandų su žaidimu supratau, kad tai eilinis, visiškai casual žaidimas kurį žaisti smagu, miela, linksma. Taip pat smagu, miela ir linksma kaip ir bet kurį kitą kokybišką casual projektą: Luxor, Bejeweled, Peggle ar lietuvių kurtą Fading Shadows. Atkreipkite dėmesį, kad visi šie projektai gavosi išties puikūs ir be Spilbergo. Tačiau jie tikrai neturėjo/neturi ir neturės tokių pardavimų (turint omenyje gautų dolerių kiekį) kokius greičiausiai susišluos Boom Blox. Vėlgi, šių žodžių nevertėtų vertinti kaip priekaišto konkrečiai žaidimui. Kaip minėjau, žaidimas išties geras ir visai pateisina mano naujausią pirkinį… Tiesiog šiek tiek gaila, kad žaidime nepajutau kino genijaus prisilietimo, nors užuominų gal ir būta…
Gorodki 2008
Berods taip vadinosi žaidimas kurio metu iš pagaliukų sustatai figūra ir paskui didesniu basliu juos daužai. Pamenu per "na palauk" šią olimpinę sporto šaką dievino begemotas. O prieš gerus 20 metų, Kaune, Pluošto baseino patalpose, net buvo arkada su šiuo žaidimu. Boom Blox iš esmės yra naujas ir labai išplėstas šio klasikinio žaidimo variantas.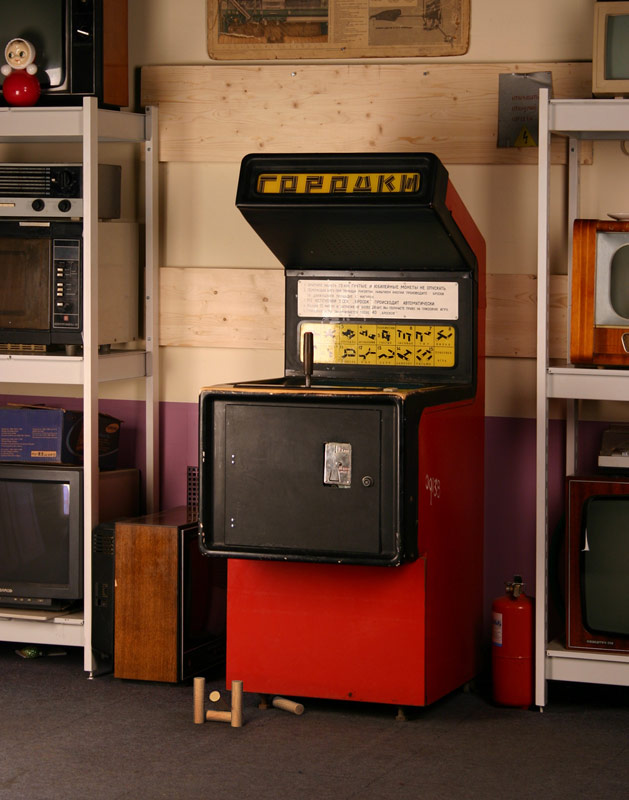 Va toks gražuolis stovėjo ir Kaune… Esu tikras, kad ir elektrėnuose buvo, bet kai ten nuvažiuodavom, niekaip negalėjau atsitraukti nuo povandeninės valties simuliatoriaus :).
Visais atvejais ekrane matysime iš įvairiausių blokelių sustatytus statinius ir turėsime kažką su jais nuveikti. Pavyzdžiui:
• Griauti — Tam reikalui reikia įsivaizduoti, kad rankoje turi teniso ar beisbolo kamuoliuką. Iš pradžių galima sukiojant ranka valdyti kamerą ir apžiūrėti taikinį (kažkokį tai statinį iš blokelių). Surandi jo silpnąsias vietas ir iš visų jėgų imituoji metimo judesį, stengdamasis neišmesti paties pultelio :). Kamuoliukas smūgiuoja į pasirinktą vietą ir prasideda labai padoraus fizikos varikliuko valdomas griuvimo procesas. Stebėti smagu. Jei liko blokelių, procedūrą pakartojam. Tikslas išmušti visus reikalingus blokelius atliekant kuo mažiau metimų. Paprastai užduotis neribojama laikui, nors yra įvairių variantų.

Žaidime nemažai lygių kuriuose kažkaip juntami 09/11 motyvai. Nugriauti vieną bokštą kuris virsdamas nugriauną kitą tokį patį.
• Sprogdinti — Analogiškas kaip ir griauti. Skirtumas tik tas, kad mūsų kamuoliukas susidūrimo metu sprogsta. Jį galima susprogdinti ir ore, spustelėjus A. Šis režimas dažniausiai naudojamas gynybos arba atakos lygiuose, kai kažkas, bando kažką pavogti, o mūsų tikslas išmušti vagis. Arba kai mūsų vadovaujama avyčių armija šturmuoja beždžionių pilį ir mūsų tikslas išmušti makakas greičiau nei jos kokosais užmėtys avytes. Beeehehee..
• Tampyti — Galime tampyti blokelius už virvučių ir naudodami juos it švytuoklę griauti viską aplink. Kitais atvejais tiesiog turime juos nutempti nuo kelio mamai gorilai keliaujančiai pas vaikučius.
• Traukioti — Šis režimas labai primena stalo žaidimą "Jenga". Ekrane matome kažkokį statinį kuriame yra teigiamų ir neigiamų taškų blokeliai. Turime paimti ir ištraukti teigiamų taškų blokelius, nenuversdami neigiamų. Man nepatiko, nes rankos dreba. Kol suėmiau pirmą teigiamą blokelį, išvarčiau pusę neigiamų. Kol kas vienintelis žaidimo režimas kuris nekelia pavojaus buto ir jame esančių žmonių saugumui jei bandoma žaisti pasivaišinus alumi.

Štai čia reikės atsargiai išrankioti geltonus kubelius taip, kad pilki nepalistų žemės.
• Galima ir daugiau visko daryti — Tik reikia daugiau laiko, kad viską išsiaiškinti. Vakar daugiausiai laiko praleidau svaidydamas šaratus, taigi gan greitai paskaudo sąnarius. Vis dėl to reik įprast naudotis pulteliu, nes pernelyg didelis įsijautimas ir inertiški judesiai gresia nemaloniais galūnių išsinarinimais. Aišku daugumai žaidėjų, žaidžiančių santūriau tas negresia. Aš santūriau nemoku. Tiesa golfą bandžiau žaisti santūriau, iškart pasidarė nuobodu.
Blokeliai
Dauguma blokelių žaidime akmeniniai. Tad jei pavyksta juos išjudinti griuvimo procesas būna įspūdingas. Tačiau yra ir kitokių:
Cheminiai — Patys savaime niekuo neypatingi žali blokai. Tačiau jei pavyksta priversti du tokius blokus susiliesti, įvyksta milžiniškas BOOM.
Sprogstantys — Didelis BOOM be jokių pastangų. Reik tik pataikyti į jį kamuoliuku ir basta.
Išnykstantys — Violetiniai tokie kaip void'as Warcrafte. Pataikei, išnyko. Labai smagu jei jie būna atraminiai.
Ir berods viskas. Kiti blokeliai būna skirtingi tik vizualiai ir be abejo priklausomai nuo dydžio keičiasi ir svoris.

Žaidimo grafika miela. Labai įspūdingai atrodo griūnantys statiniai, kai jų dalys visu greičiu atlekia į kamerą. Aišku iki next—gen vaizdų žaidimui toli kaip iki kinijos keturiomis, bet… Animacinė grafika ant maniškio 40″ atrodo kokybiškai ir mielai (ko nepasakyčiau apie kelis kitus mėgintus Wii žaidimus). Žaidime labai mieli spalviniai sprendimai. Šiaip nuoširdžiai sakau, vienintelis trūkumas tai glotninimo nebuvimas. Kai kurie ypač didesni blokai labai grubiomis kraštinėmis erzina tol, kol nenugriauni jų velniop.
Ką veikė Spilbergas?
Tikėtina, kad jis būdamas didelis casual žaidimų (mėgėjiškų žaidimų laisvalaikiui) gerbėjas siūlė savo idėjas komandai. Gal net turėjo lemiamą žodį priimant sprendimus, testavo. Tikėtina, kad pridėjo mažąjį piršteli ir prie trumpų, žaidime esančių, siužetinių istorijų. Jos pasakoja apie tai kaip avytės "Bwaaaahhs from Woolington" kaunasi su šuniukais ir beždžionytėmis dėl deimančiukų. Kaip mama gorila ieško pagrobtų vaikų ir t.t. Labai gražūs ir nuotaikingi filmukai, bet… Pavyzdžiui jaučiasi, kad pirmą posmelį kažkas bandė rimuoti ir tai pridėjo labai daug šarmo žaidimui apskritai. Bet šarmas nugaruoja įveikus pirmas dvi misijas. Rimas byra, malonumo nebelieka. Kažkoks darželinukų lygio deklamavimas. Tikiuosi Spilbergas paprasčiausiai to nematė, nors bet kuriuo atveju, tokios kliurkos tai skaldos kamazas į jo daržą. Žodžiu jei atvirai, tai mano kuklia nuomone Spilbergas paprasčiausiai leido pasinaudoti savo pavarde. Liūdna, nes tikėjaus daug daugiau. Tie kas 1999-aisiais žaidė Medal of Honor ant pirmojo PlayStation, ko gero dar prisimena, tą žaidimo atmosferoje tvyrančią magiją. Ji išnyko po MOH: Underground pasirodymo. Maždaug tada kai su projektu nustojo dirbti Spilbergas ir Dreamworks. Šie prisiminimai ir iškėlė lūkesčių kartelę. Lūkesčių kuriuos žaidimas pateisino, o Spilbergo pavardė ant dėžutės ne.

Whaaaah chikens! Run for your lives!
Rodyk draugams